November 7, 2011
I can't believe that the Holiday Season is upon us (not in full force, but it's here). There is so much to do: decorate, cook, bake, give thanks...
On "The Nake Berkus Show" there will be upcoming guests sharing some great new recipes.
Lucky for you, I have a sneak peek at a few.
From the press release:
"On Thursday November 10th, Nate will cook with Lorena Garcia for a Latino twist on Thanksgiving to cook a Latin Rub Turkey Breast & Cilantro Cranberry Brown Rice (Recipe Below).
-

Garlic, Onion, Paprika, Chili & Cumin Powders
-

*Preheat ovan to 350 degrees
-

Blend Butter, Herbs & Pistachios until smooth in a food processor
-

Place butter/herb mix b/w skin and turkey breast-
-

Season with latin spice, salt & pepper
-

Marinate for 1.5 hrs in fridge
-

make in roasting pan 2 to 3 hrs cover loosely in foil for 1st hour
Cilantro Cranberry Brown Rice-
-

Cook long grain brown rice 25-30 minutes, al dente
-

Sautee Shallots & Garlic in Vegetable Oil
-

Stir in rice, cilantro & cranberries and mix
On Friday, November 18th Food Network's Pat and Gina Neely ("Down Home With the Neelys" will join Nate for a hearty southern style thanksgiving feast. They will be making sweet cherry-cola BBQ ribs and garlic mashed potatoes (Ingredients and cooking instructions below)! This rib dish is also great on chicken or turkey to go great for your feast!
Sweet Cherry-Cola BBQ Sauce-
One 12-oz can cherry cola
2 tbs Worcestershire sauce
1tbs sweet cherry-cola rub
-

combine ingredients into a large saucepan
-

lower heat & gently simmer
2 ½ lbs Yukon gold potatoes
Kosher salt & ground pepper
1 cup thinly sliced chives
-

heat butter & half-and-half in a small pot until melted
-

return potatoes to large pot on stove, turn heat back on to low
-

mash potatoes until smooth
-

stir in hot butter & cream
-

add shredded cheese, stirring to melt
-

add salt & pepper and chives
2 cups blood-orange juice
1 bottle prosecco, chilled
-

Pour ¼ c of blood OJ into champagne flute
-

Top each glass with Prosecco
All the recipes look Ah-Ma-Zing.
Are you cooking anything new this Thanksgiving?
November 1, 2011
It's that time of year: Baking Season!
Yay.
Here's what is upcoming on NYTM Cooks.
Apple Pie.
Pumpkin Pie.
Cheesecake.
Wish me luck.
October 16, 2011
A great, and easy to make,
comfort food
.
June 6, 2011
Here's hint at what I've been up to... Review to come. :)
May 16, 2011
Here is a great tasting, easy to make recipe for
Stuffed Bell Peppers
May 7, 2011
I cheated tonight and bought a dutch apple frozen pie from the freezer section at my store.
I wasn't too happy about it so I googled some recipes for dutch apple pie and wanted to share them with you.
Dutch Apple Pie
PENNSYLVANIA DUTCH APPLE PIE
April 23, 2011
What are your favorite cooking magazines?
Mine are Taste of Home, the Food Network Magazine and King Arthur Flour's catalog (yes, not typically a "magazine" but it comes with great recipes and photos).
March 16, 2011
I love getting creative with cakes.
This is my youngest daughter's birthday cake with a garden theme.
I stole figurines from my oldest's horse set and added the white fence to spruce it up.
March 6, 2011
I know it's been awhile but normally after the holiday season, I'm burnt out on cooking and baking.
It takes a while to get back into the swing of things.
I am planning a complete home cooked meal today with from scratch key lime pie though... wish me luck. :)
December 21, 2010
What's on your table for Christmas breakfast?
December 17, 2010
I bought myself a Christmas gift to help me cook.
The Martha Stewart's Cooking School
Think it will help?
December 14, 2010
What you start with:
What you end up with:
YUM!
Potato Soup
What You Need:
1 medium onion, chopped
1 celery rib, chopped
1 medium carrot, grated
½ cup butter
2 tbsp all purpose flour
4 cups milk
1 can (10 3/2 oz) condensed cream of mushroom soup, undiluted
½ cup cubed Velveeta Cheese
6 large potatoes, peeled, diced and cooked (8 cups)
1 tsp seasoned salt
What You Need To Do:
In Dutch Oven (or heavy bottomed pot), sauté onion, celery, carrots in butter.
Stir in flour until blended.
Gradually add milk and bring to a boil.
Stir for two minutes.
Add soup, cheese, potatoes, and seasoned salt and mix well.
Cook and stir until cheese is melted and soup is heated through.
December 10, 2010
December 7, 2010
In the spirit of eating Christmas, Roo and I made gingerbread houses. But we cheated and made them simple. Like I said before, sometimes life gets in the way of what you truly want to do, but the end result (eating) was the same. This is a great rainy day (or snowy day) activity and the kids have a blast helping out.
The quickest way to make gingerbread houses is to assemble the following products:
Graham Crackers (any brand will do)
Icing (canned or tubbed)
Sprinkles
Small Candies (like Mini M&Ms, gumdrops, etc).
If you decide to go with tubbed icing, get a sandwich baggie and fill it with the icing. Snip off the tip of the bag and you can use that to decorate.
Start with a plate or parchment paper. Lay down strips of icing in the shape of squares (however big you want your gingerbread house to be). This will act like a "glue" for the walls of the house. After you get your walls situated, ice the tops of the walls and add a flat roof (this will help support your pitched roof). To put your pitched roof on, add more icing (if you haven't noticed icing is the key to this house). And arrange the crackers so they come to a point in the middle. Add icing along all seams then decorate with candies.
December 3, 2010
I have to confess... sometimes the thought of going through the motions to make cookies from scratch makes me want to pull my hair out. With two kids, a husband, dogs, horses, pigs, oh and me, to take care of, it gets kinda tiring. So when I have a sweet tooth and want cookies. I grab this:
Simple, easy and all you need is two ingredients: one egg, one stick of butter.
Other great quick, no fuss cookie dough are:
December 2, 2010
What You Need:
4 oz cream cheese
1 cup powdered sugar
1/3 creamy peanut butter (any brand will do)
1 box of Dream Whip
2/3 cup of milk (whole milk works best)
What You Need To Do:
Mix 4 oz of cream cheese and 1 cup of powdered sugar together. Add in 1/3 cup of peanut butter.
In a separate bowl, mix box of Dream Whip and 2/3 cup of milk. Whip until stiff peaks appear.
Add in the peanut butter mix and whip really, really good.
Put mixture in a graham cracker pie crust and freeze overnight.
If you can't wait, place pie in deep freezer for at least an hour.
Enjoy! 
December 1, 2010
My house has a wonderful aroma wafting around it... it's the smell of cookies.
What you need:
1 cup flour
2/3 cup rolled oats
1 1/2 tsp baking powder
1/4 tsp salt
1 cup Peter Pan creamy peanut butter
1/2 cup Parkay original stick
1 cup firmly packed brown sugar
1/3 cup sugar
1 egg
1 1/4 tsp vanilla
1 (12.6 ounce) package Christmas colored M&M's
What to do:
Preheat oven to 350*. Combine flour, oats, baking powder and salt in a bowl and set aside. Cream peanut butter, Parkay and sugars on medium speed until fluffy. Beat in egg and vanilla. Turn mixer to low and add flour mixture, slowly. Stir in M&M's with a wooden spoon. Form mixture into 1-inch balls and place 2 inches apart on (non-stick foil lined) cookie sheets. Flaten with a fork in a criss cross pattern (I used my meat tenderizer and it made a wonderful imprint) . Bake 10-12 minutes until lightly browned and centers are still soft. Cool 1 minute and transfer to wire racks to complete cooling.
Tip: Use mini M&M candies, as the larger ones really take up space on the cookie.
November 23, 2010
Can you say: Baking Season?
It's that time.
Here's what I made today:
Fudgy Peppermint Torte
(photos on original post).
What You Need:
1 ½ cups butter, softened
3 ¼ cups packed brown sugar
4 eggs
2 tsp vanilla extract
4 cups all-purpose flour
1 ¼ cups baking cocoa
2 tsp baking powder
1 tsp salt
1 tsp baking soda
2 ½ cups cold water
Filling:
1 ½ cups heavy whipping cream
½ cup confectioners' sugar, divided
¼ tsp peppermint extract
1 pkg (8 oz) cream cheese, softened
1 cup crushed peppermint candies, divided
What You Do:
In a large bowl, cream butter and brown sugar until light and fluffy. Add eggs, one at a time, beating well after each egg is added. Add in vanilla. Combine flour, cocoa, baking power, salt and baking soda in separate bowl; add to the creamed mix alternatively with water, mix well.
Pour batter into 9" round baking pans (I sprayed mine with PAM Baking Spray). Bake at 350 degrees for 18-22 minutes. Cool for 10 minutes, transfer to wire racks to cool completely.
In small bowl, beat whipping cream until thick. Add ¼ cup of confectioners' sugar and peppermint extract; beat until soft peaks form.
In another bowl, beat the cream cheese and remaining confectioners' sugar until smooth. Fold into the whipping cream then add ¾ cup of peppermint candies.
Place bottom layer of cake on a plate, frost and then add another layer of cake. Repeat until you run out of cake. Refrigerate cake for at least one hour then sprinkle with remaining peppermint candies then serve.
November 14, 2010
Baby Food 101
Baby food is one thing I can't mess up. I mean, seriously, it's super simple.
Just slice up your fruits or veggies and mash it up with a food masher (I used the
Anabel Karmel's Mash and Serve Bowl
).
Peas are easy.

This is a mess of strawberries and bananas.
And serve!
This is definitely one meal I can't screw up!
November 13, 2010
Need a yummy treat for a cook this season?
Check out my review of
Mrs Prindable's Apples
.
Yummy!
November 10, 2010
The easiest peanut butter cookies ever.
What you need:
1 cup of peanut butter (you can use chunky, I've always used smooth).
1 cup sugar
1 egg.
Mix all the ingridents in a bowl and roll as 1 inch balls. Flatted out and then bake at 350 degrees for 10 minutes (time varies by oven so I suggest you watch them as they cook so they don't burn). Let cool then scarf them down.
Easy peasy.
October 28, 2010
The Original Chocolate Chip Cookie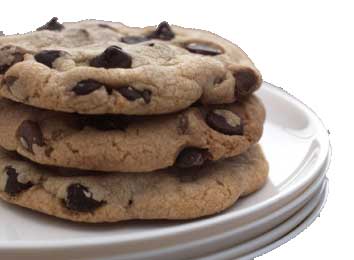 What You Need:
Ingredients
2 1/4 cups all-purpose flour
1 teaspoon baking soda
1 teaspoon salt
1 cup (2 sticks) butter, softened
3/4 cup granulated sugar
3/4 cup packed brown sugar
1 teaspoon vanilla extract
2 large eggs
2 cups (12-oz. pkg.) Semi-Sweet Chocolate Morsels
1 cup chopped nuts (optional)
What You Need To Do:
Combine flour, baking soda and salt in small bowl. Beat butter, granulated sugar, brown sugar and vanilla extract in large mixer bowl until creamy. Add eggs, one at a time, beating well after each addition. Gradually beat in flour mixture. Stir in morsels and nuts. Drop by rounded tablespoon onto ungreased baking sheets.
Bake at 375 degrees for 9 to 11 minutes or until golden brown. Cool for 2 minutes and remove to wire racks to cool completely.
Eat and enjoy!
October 26, 2010
Taco Night.
Easy, like really easy.
What you need:
1lb of ground beef (I use 93/7 to make as little fat as possible).
Taco Shells
Taco Seasoning
Variety of toppings (I use lettuce and shredded cheese).
Fry up some ground beef, add taco seasoning mix in and mix it really well.
Heat up tacos in oven.
Spread meat in taco shells and add your toppings.
Eat and enjoy.
Introduction
I've never been a fabulous cook... ever.
I blame this on my Mom (sorry Mom!), but she claims that she's not a great cook either.
I've decided (after much heckling from my husband) that I need to change this.
I need to be a better cook!
This is my journey... join me.